Manchester bar and eating place within the middle has had to defend itself over its gender-neutral bogs following a backlash on social media.
On Saturday (August 13), a Twitter user shared a photograph of a proof taken within The Refuge, that is found on Oxford Road, which showed directions to gender-neutral and men's toilets. Captioning the post, the user wrote: "Another bar who believes a lady doesn't belong her own space. however a male does."
Replying to the thread, one commenter wrote: "We got to stop giving these places custom, easy as. Bars have always needed to draw in feminine custom – it's a draw. Don't provide these places custom, they'll learn a touch bloody quickly."
Another said: "Interesting that one in every of the rooms is overtly exclusionary, and nevertheless this can be thought of somehow to be an comprehensive practice. Biology' supposed by them to be unsuitable and yet one of the 2 rooms is strictly outlined by biology."
As of weekday (August 15), the initial tweet had received over 1,500 'likes' and more than 370 retweets. 'I have boycotted places because of this. Absolute abhorrent', one person said. Another delineate it as 'unadulterated prejudice'.
But, in response to the initial tweet, The Refuge aforementioned it will have separate feminine bogs and also the photograph was taken of a region wherever gender-neutral and male toilets were situated.
One reply from the bar said: "We have varied female facilities onsite too – as well as the most toilets within the Public Bar itself… There's house for everyone. Unsure why solely this one area has been shared…"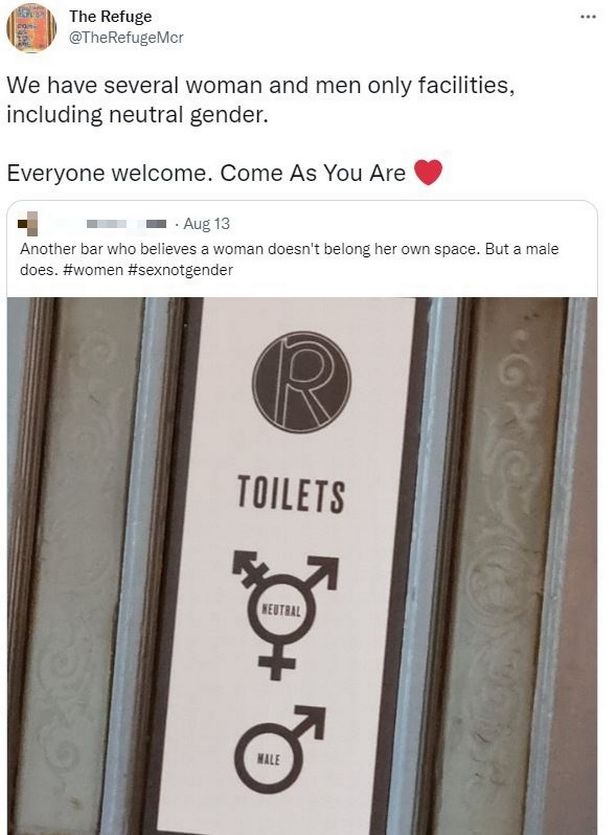 talking to the M.E.N, a voice for the bar and eating place said: "The Refuge takes nice pride in providing a secure house for all to feel comfortable. As a part of our really comprehensive approach, there are multiple rest room facilities offered inside the eating place and bar for women, men, and gender neutral facilities."